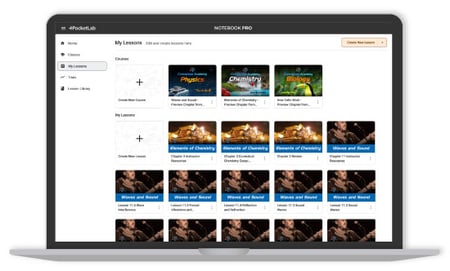 Notebook Pro + Conceptual Academy Subscription
$990.00 per teacher per year
A Notebook Pro subscription is included with a Conceptual Academy curriculum subscription and will be added to your cart automatically.
HIGH SCHOOL SCIENCE EDUCATION MADE EASIER
PocketLab Notebook Pro + Conceptual Academy curricula takes our Notebook software to the next level, turning any computer, laptop, tablet, or smartphone into an all-in-one, fully customizable science education solution.
With Notebook Pro + Conceptual Academy, teachers can access the full suite of Notebook features including:
NGSS-aligned Conceptual Academy high school science programs
A library of hundreds of supplemental labs and lessons
Integration with Google Classroom
Unlimited student accounts and classes
Unlimited lesson assignments
Unlimited PocketLab sensor data trials
A full range of powerful classroom management features
Compatible on Windows, Chrome, Mac, iOS, and Android
Optional companion Conceptual Academy textbooks are also available for purchase: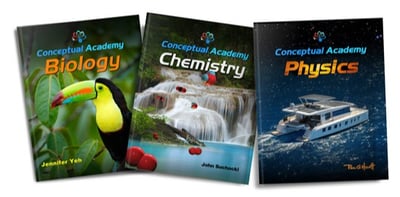 Meet Notebook Pro + Conceptual Academy
Science curriculum. Super-charged.
About Notebook
PocketLab Notebook is a powerful, full-featured, all-in-one digital lab book and lesson library. Anytime, anywhere, teachers and students can collect, visualize, and analyze live experiment data in a way that makes labs come alive.

With Notebook, teachers can create digital lab reports and assign them to students in minutes. Start with a template or build your own from scratch, import existing lessons or other documents, pull in videos and images, add PocketLab data, questions and instructions for students, PhET simulations, data tables, and more.
ABOUT CONCEPTUAL ACADEMY
Designed by Paul Hewitt, John Suchocki and Jennifer Yeh, Conceptual Academy brings high school science programs to students in a unique and engaging way. A comprehensive library of videos provides the context students need to understand the text-based content and builds a strong conceptual foundation. Students are easily able to make connections between the concepts of physics, chemistry and biology and their everyday world.

Conceptual Academy supports the Next-Generation State Standards and is accessible to students of all learning styles and abilities.
Notebook Pro + Conceptual Academy Curriculum
Together, PocketLab and Conceptual Academy have built an all-in-one, flexible solution for teachers that combines high school science programs, video content, hands-on labs and lessons, and a digital lab notebook where students engage with content in meaningful ways.
Easier than ever. Access curriculum, assign hands-on labs, and monitor student progress toward key learning objectives from one platform.

Customizable by design. Choose from dozens of other NGSS-aligned Notebook Lessons for the flexibility to teach science concepts your way.

Created by experts. Deliver curriculum and lessons created by Paul Hewitt, John Suchocki and Jennifer Yeh based on the way students learn best.

Cost-effective. Save with our affordable per-teacher pricing structure.

Seamlessly integrated. Connect PocketLab Notebook to Google Classroom for easy implementation.

Designed for flexibility. Supplement digital content with Conceptual Academy's optional companion textbooks as an aid in lesson planning and for student use.
Plan and Prepare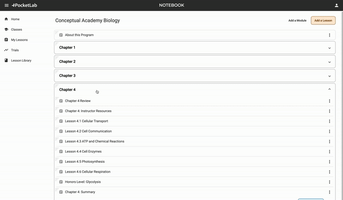 Collaborate
Monitor Progress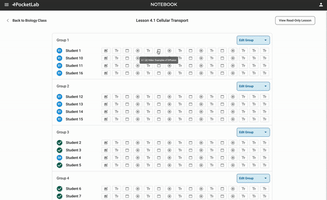 TEACHER ACCOUNT
Seamlessly integrate Conceptual Academy curriculum with supplemental Notebook Lessons from the Lesson Library

Assign unlimited lessons to your students and monitor student progress in real-time
Collect unlimited PocketLab sensor data
Use administrative controls to group students, differentiate instruction, and provide feedback
Access hundreds of exclusive, fully customizable, ready-to-go lessons from a suite of PocketLab partners
STUDENT ACCOUNT
Work on interactive Notebook Lessons assigned from a teacher

Create Lab Reports to guide and document hands-on activities

Record and save unlimited PocketLab data trials to the student Trials page

Use Data Analysis Tools to analyze, graph, and interpret experimental data

Collaborate with other Notebook Students in lab groups
Conceptual Academy Curricula
Curricula coming to PocketLab Notebook for the 2022-23 school year.
CONCEPTUAL ACADEMY
PHYSICS


Introduction: About Science
Chapter 1: Newton's First Law
Chapter 2: Newton's Second Law
Chapter 3: Newton's Third Law
Chapter 4: Momentum
Chapter 5: Energy
Chapter 6: Gravity
Chapter 7: Fluid Mechanics
Chapter 8: Heat
Chapter 9: Magnetism
Chapter 11: Waves and Sound
Chapter 12: Light and Color
Chapter 13: Light Properties
Chapter 14: The Atom
Chapter 15: Nuclear Energy


CONCEPTUAL ACADEMY CHEMISTRY


Chapter 1: About Science
Chapter 2: Particles of Matter
Chapter 3: Elements of Chemistry
Chapter 4: Subatomic Particles
Chapter 5: The Atomic Nucleus
Chapter 6: How Atoms Bond
Chapter 7: How Molecules Mix
Chapter 8: How Water Behaves
Chapter 9: How Chemicals Reacts
Chapter 10: Acids and Bases
Chapter 11: Oxidations and Reductions
Chapter 12: Organic Compounds
Chapter 13: Nutrients of Life
Chapter 14: Medicinal Chemistry
Chapter 15: Optimizing Food Production
Chapter 16: Water and air REsources
Chapter 17: Capturing Energy
*NGSS-alignment map coming soon
CONCEPTUAL ACADEMY
BIOLOGY

Chapter 1: About Science
Chapter 2: The Chemistry of Life
Chapter 3: The Cell
Chapter 4: How Cells Work
Chapter 5: DNA and Genes
Chapter 6: Inheritance
Chapter 7: Genetic Technologies
Chapter 8: Natural Selection
Chapter 9: Evidence of Ecolution
Chapter 10: Diversity of Life 1
Chapter 11: Diversity of Life 2
Chapter 12: The Nervous System
Chapter 13: Control and Movement
Chapter 14: Maintaining the Body
Chapter 15: Protecting Health
Chapter 16: Populations
Chapter 17: Communities
Chapter 18: Ecosystems
*NGSS-alignment map coming soon
Interactive, Hands-On Science Lessons In Minutes.
Backed By Research
PocketLab Notebook was developed through grants with the National Science Foundation and the Institute of Education Sciences at the Department of Education and in partnership with WestEd Research.
We piloted Notebook beta with hundreds of middle school students to see if it increased their engagement in the NGSS science and engineering practices. In preliminary feedback, 71% of the 350 student participants responded that they actually enjoyed the lab report process while using the PocketLab Notebook!

PocketLab is a science learning system.


Notebook (Pro) + Curriculum + Sensors + ScIC Community
PocketLab sensors do not stand alone. Every sensor is part of the PocketLab learning system, which brings together curriculum, software, sensors, and the ScIC unconference. Plus, the whole system is customizable to fit any classroom empowering you to teach science your way.
All PocketLab sensors are designed to seamlessly pair with our free Notebook or Notebook Pro software for real-time data visualizations, analysis, and lab reports. Create live, vivid data visualizations. Record and analyze data in real time. Create and share lab reports.
Choose from our curricula options and teacher-made lesson library full of no-prep labs and projects designed specifically for our sensors and built directly into Notebook and Notebook Pro. The possibilities are endless, and it's all part of the PocketLab learning system.
Have drawers full of sensors from different companies? No problem. Both Notebook and Notebook Pro can visualize data from practically any sensor. Just export and upload a CSV file of your data and Notebook will automatically create interactive graphs of your measurements.