PocketLab TurboTrack in Action
"We set out to design a kit that would make physics and engineering more fun and interesting and accessible to all students...While the cart and some of the other pieces look simple, they are the results of many, many iterations and design tests." – Clifton Roozeboom, PocketLab Co-Founder
Features
Collect PocketLab data on position, velocity, acceleration, energy and more every TurboTrack experiment

Customize your track to explore questions you're curious about

Engineer roller coasters

Build cars powered by magnets, elastic launchers, and wind-power

3D print more track connector stations or customize your own

Add unlimited Hot Wheels track to extend your roller coasters, or other creative ideas.

Learn about force, motion, collisions, energy, engineering, and more!
INCLUDED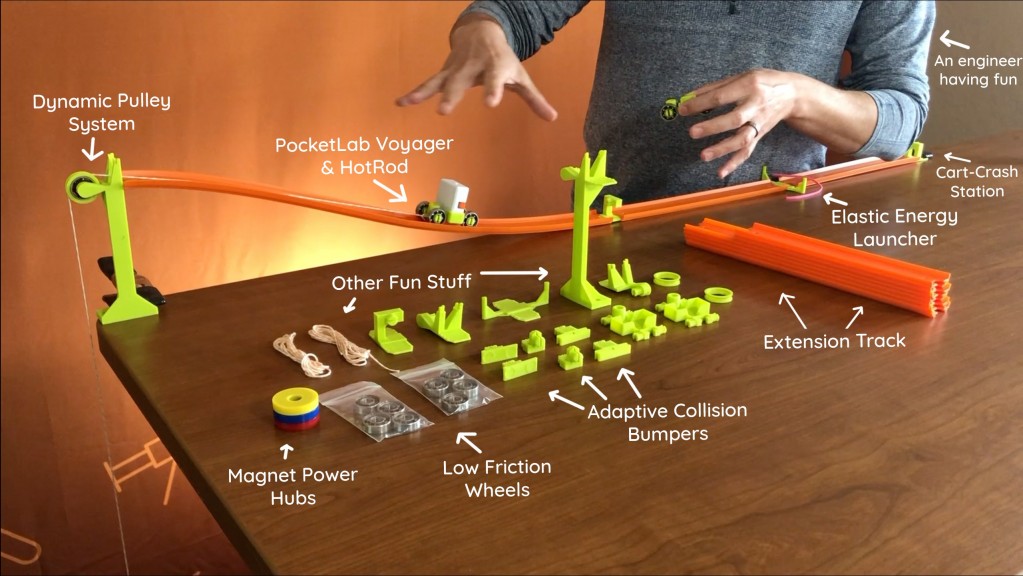 2 HotRod carts to use with PocketLab Voyager

6 feet of Hot Wheels Track

2 pulleys for Atwood machines and other experiments

4 magnets for building magnetic powered carts

6 interchangeable bumpers for different types of collisions
1 elastic energy cart launcher

1 tall track pillar for ramp and roller coaster design activities

1 collision and crash station

Weights for HotRod carts and pulley system

NGSS aligned lesson plans covering a range of Physics and Physical Science topics (digital download)
ALIGNMENT TO NGSS, PHYSICS STANDARDS
The kit includes everything you need to teach seven NGSS Middle School Physical Science performance expectations, in addition to numerous high school physics activities, while integrating all four Engineering Design standards.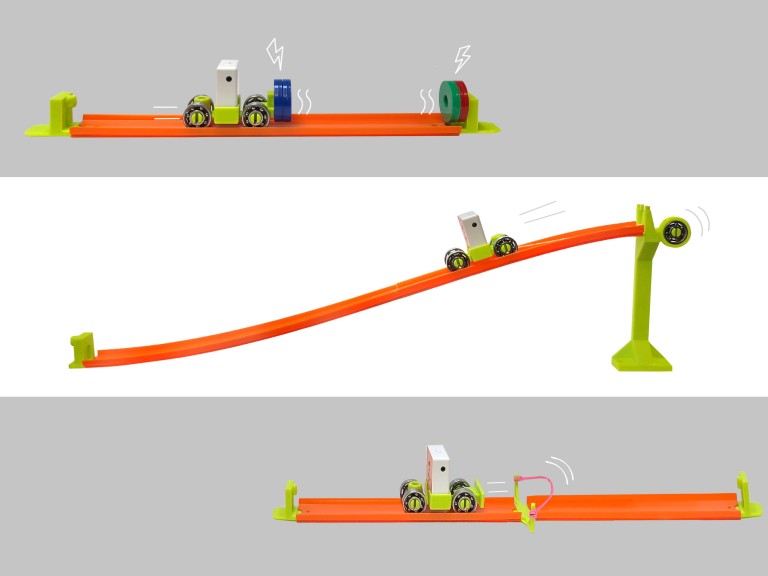 Real Data, Not Simulations
Every activity involves real-world data collection of physical phenomenon so your students can learn hands-on.
Backed by Research
Lessons for the TurboTrack were developed in projects with the Department of Education Institute of Educational Sciences and the National Science Foundation SBIR program
Physics Concepts
Some of the Physics concepts covered by the PocketLab TurboTrack:
Position, velocity, and acceleration

Energy and momentum

Elastic and inelastic collisions

Forces acting at a distance

Energy transfer

Newton's Laws of Motion

Harmonic motion

Roller coaster, crash cushion, and bumper design
Build the Kit Yourself, For Free
Do you have your own 3D printer? If so, you can 3D print all of the custom track stations and connectors yourself to build your own kit. We've made all of the 3D printer files available for free on our Thingiverse page. Click here to learn how to build the kit for free.
WORKS WELL WITH POCKETLAB VOYAGER
PocketLab is a science learning system.


SENSORS + NOTEBOOK (PRO) + LESSON LIBRARY + SCIC COMMUNITY
PocketLab sensors do not stand alone. Every sensor is part of the PocketLab learning system, which brings together our sensors, software, lesson library, and ScIC conference. Plus, the whole system scales to fit any class load. Anyone using PocketLab is part of a massive science learning community that is growing every day.
All PocketLab sensors are designed to seamlessly pair with our free Notebook or Notebook Pro software for real-time data visualizations, analysis, and lab reports. Create live, vivid data visualizations. Record and analyze data in real time. Create and share lab reports.
Choose from our teacher-made lesson library full of no-prep labs and projects designed specifically for our sensors and built directly into Notebook and Notebook Pro. The possibilities are endless, and it's all part of the PocketLab learning system.
Have drawers full of sensors from different companies? No problem. Both Notebook and Notebook Pro can visualize data from practically any sensor. Just export and upload a CSV file of your data and Notebook will automatically create interactive graphs of your measurements.