Notebook Pro + OpenSciEd
CURRICULUM, POWERED BY POCKETLAB
Open-source, NGSS-aligned, middle school curriculum in a classroom-ready digital science platform.
$695 per teacher per year


Why OpenSciEd?
OpenSciEd offers high-quality, locally-adaptable, full-course curriculum that supports equitable science learning. It consists of phenomenon-based, three-dimensional units that prioritize student coherence and equitable science sensemaking. The units are developed with teacher and student voices from across the country informing the selection of the phenomena and the storyline of the unit. Throughout the units, students develop their ability to solve problems, ask and answer questions, and argue from evidence.
The OpenSciEd middle school science program follows the OpenSciEd scope and sequence and addresses all of the middle school NGSS standards.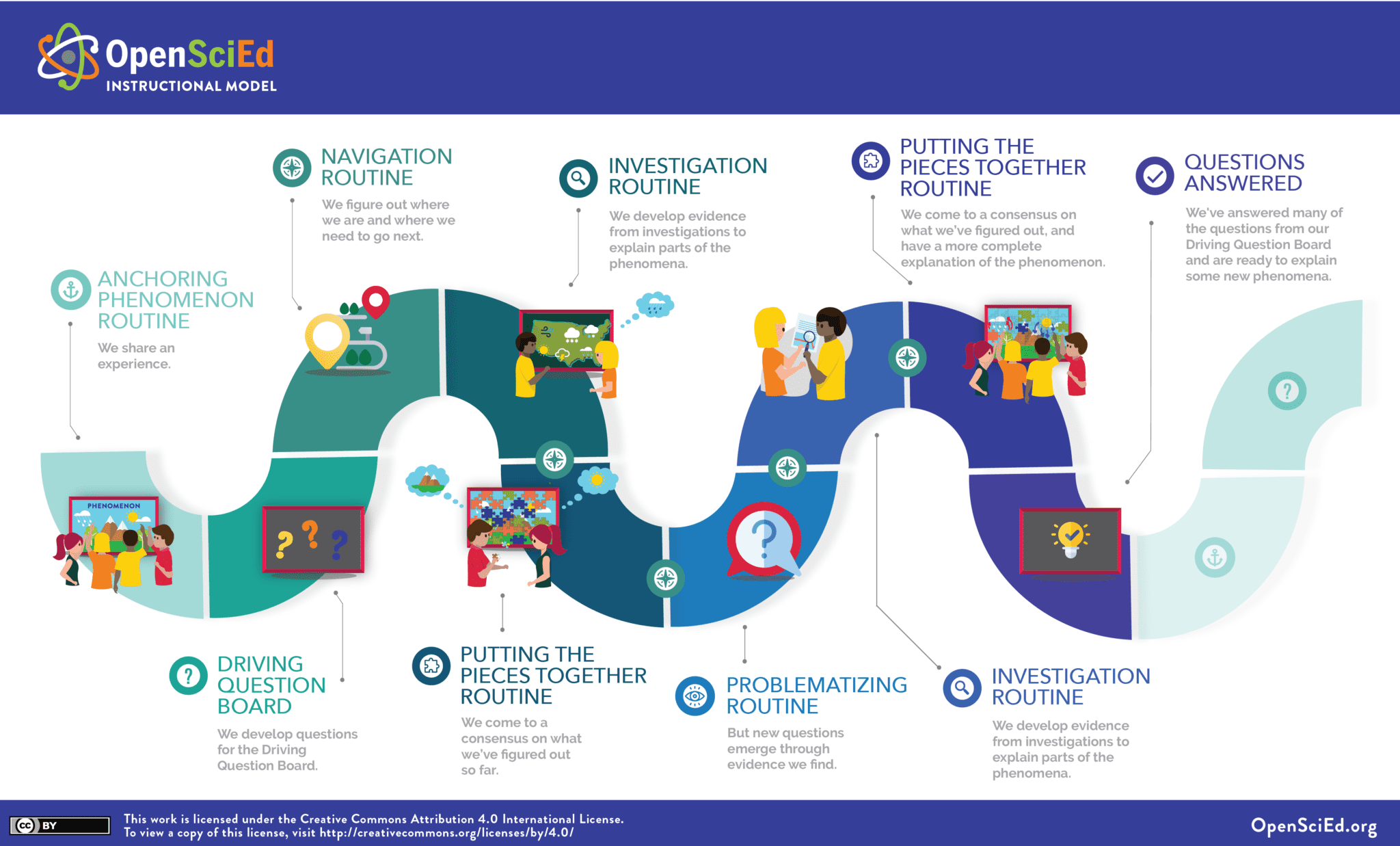 The OpenSciEd Instructional Approach
OpenSciEd units are designed using a form of "science storytelling". This approach is used to provide students with a coherent experience that enhances their understanding through their innate curiosity and motivation to solve problems. Science storytelling communicates the idea that students are motivated to work through the steps of scientific inquiry in the same way they want to find out what happens next in a story.
For more information about the OpenSciEd pedagogy, we invite you to review their middle school materials design specifications:
https://www.openscied.org/wp-content/uploads/2019/07/OpenSciEd-Design-Specifications-Overview.pdf
The best of both worlds.
PocketLab Notebook Pro + OpenSciEd is a digital, flexible solution for teachers that combines a full middle school science curriculum, hands-on labs and lessons, and an interactive lab notebook. Customize OpenSciEd content based on your classroom or individual student needs, assign lessons and monitor student progress as they collect, measure and analyze data.
Easier than ever. Access curriculum, assign hands-on labs, and monitor student progress toward key learning objectives from one platform.

Adaptive by design. Customize your lessons by editing lesson modules and selecting from dozens of supplemental NGSS-aligned Notebook Lessons for the flexibility to teach science concepts your way.

Research-backed. Teach with content based on the latest research regarding how students learn most effectively, and watch engagement and comprehension improve in measurable ways.

Cost-effective. Save with our affordable per-teacher pricing structure and avoid wasteful printing costs with Notebook Pro's digital delivery and classroom management tools.

Seamlessly integrated. Connect PocketLab Notebook to Google Classroom for easy implementation.
Plan and Prepare
Access all of the information and resources you need to prepare for each unit, lesson and day of instruction. The complete materials list is available for you to source from your own supply closet or a kit provider of your choice.
Collaborate
Watch students engage in dynamic discussions right in Notebook Pro. Students can answer questions individually, in groups or as a class. Review responses and chime in to keep the discussion and discovery moving along.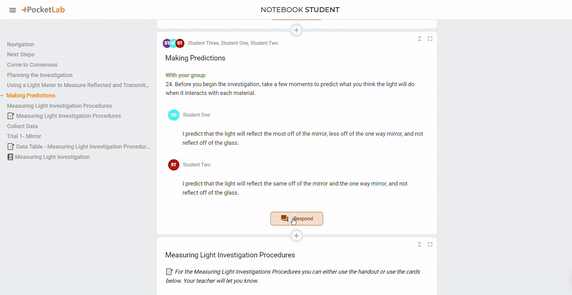 Monitor Progress
Easily track progress through each unit and lesson on the class dashboard. Assign lessons with the click of a button that students can access in their own Notebook account. Make changes on the fly for students or groups who need more support and give real-time formative feedback.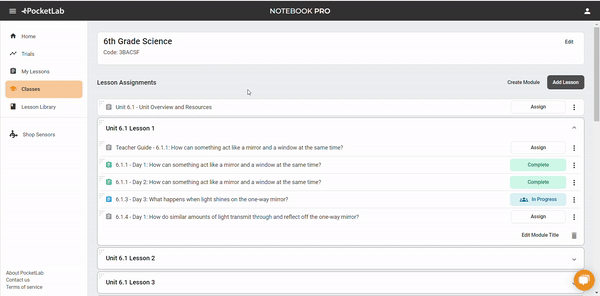 Learn more in our
Notebook + OpenSciEd Webinar Replay
OpenSciEd Curriculum
All OpenSciEd middle school curriculum units are currently available in PocketLab Notebook Pro
GRADE 6


6.1 Light & Matter Why do we sometimes see different things when looking at the same object?
6.2 Thermal Energy How can containers keep stuff from warming up or cooling down?
6.3 Weather, Climate & Water Cycling Why does a lot of hail, rain, or snow fall at some times and not others?
6.4 Plate Tectonics & Rock Cycling What causes Earth's surface to change?
6.5 Natural Hazards Where do natural hazards happen and how do we prepare for them?
6.6 Cells & Systems How do living things heal?
GRADE 7


7.1 Chemical Reactions & Matter How can we make something new that was not there before?

7.2 Chemical Reactions & Energy How can we use chemical reactions to design a solution to a problem?
7.3 Metabolic Reactions How do things inside our bodies work together to make us feel the way we do?
7.4 Matter Cycling & Photosynthesis Where does food come from and where does it go next?
7.5 Ecosystem Dynamics How does changing an ecosystem affect what lives there?
7.6 Earth's Resources & Human Impact How do changes in the Earth's system impact our communities and what can we do about it?
GRADE 8


8.1 Contact Forces Why do things sometimes get damaged when they hit each other?
8.2 Sound Waves How can a sound make something move?
8.3 Forces at a distance How can a magnet move another object without touching it?
8.4 Earth in Space How are we connected to the patterns we see in the sky and space?
8.5 Genetics Why are living things different from one another?
8.6 Natural Selection & Common Ancestry How could things living today be connected to the things that lived long ago?
Bundle Up
PocketLab OpenSciEd Bundles bring together everything you need to execute data collection-based OpenSciEd labs and lessons. Together, PocketLab Sensors and Notebook enable students to collect, analyze and record real-time data and easily manipulate lab variables. Perfect for scientific sense-making.