Analog & Digital Code Kit
The Analog and Digital Code Kit is a simple but engaging way to investigate how information is transmitted over distances using electrical and optical signals. Student can conduct hands-on experiments designed for middle school and high school levels. The lesson materials work with PocketLab Voyager, PocketLab Weather, and PocketLab Air. Ready to go lesson material here.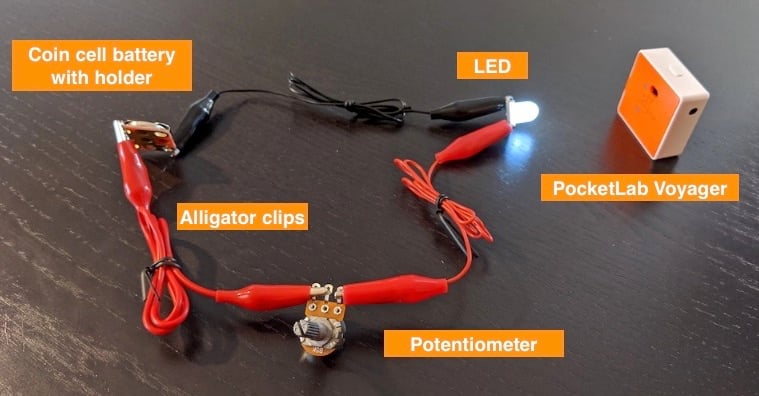 Included
White color LED

Potentiometer

Coin cell battery holder

CR2032 coin cell battery

Push button switch

3x Alligator clips

Detailed lessons and instructions through the PocketLab Notebook
PocketLab is a science learning system.


SENSORS + NOTEBOOK (PRO) + LESSON LIBRARY + SCIC COMMUNITY
PocketLab sensors do not stand alone. Every sensor is part of the PocketLab learning system, which brings together our sensors, software, lesson library, and ScIC conference. Plus, the whole system scales to fit any class load. Anyone using PocketLab is part of a massive science learning community that is growing every day.
All PocketLab sensors are designed to seamlessly pair with our free Notebook or Notebook Pro software for real-time data visualizations, analysis, and lab reports. Create live, vivid data visualizations. Record and analyze data in real time. Create and share lab reports.
Choose from our teacher-made lesson library full of no-prep labs and projects designed specifically for our sensors and built directly into Notebook and Notebook Pro. The possibilities are endless, and it's all part of the PocketLab learning system.
Have drawers full of sensors from different companies? No problem. Both Notebook and Notebook Pro can visualize data from practically any sensor. Just export and upload a CSV file of your data and Notebook will automatically create interactive graphs of your measurements.