MEET G-FORCE, A SCIENCE LAB ON WHEELS.
G-Force packs cutting edge technology in a durable race car frame for tons of science fun. It's like a Hot Wheels™ car with a speedometer.
Stream and record data in real-time, then analyze it in PocketLab Notebook

Compatible with iOS, Android, Chrome OS, Windows 10, and Mac OS

Bluetooth 4.2 wireless connection

Record up to 30,000 measurements to the onboard memory

Rechargeable lithium-polymer battery
PocketLab G-Force

Interchangeable Bumper Accessory Kit

Sticker Sheet

Charging Cable

Protective Carrying Case
Velocity (Speedometer)

Position (Odometer)

G-force (Accelerometer)

Acceleration (Accelerometer)

Rotation (Gyroscope)

Direction (Magnetometer)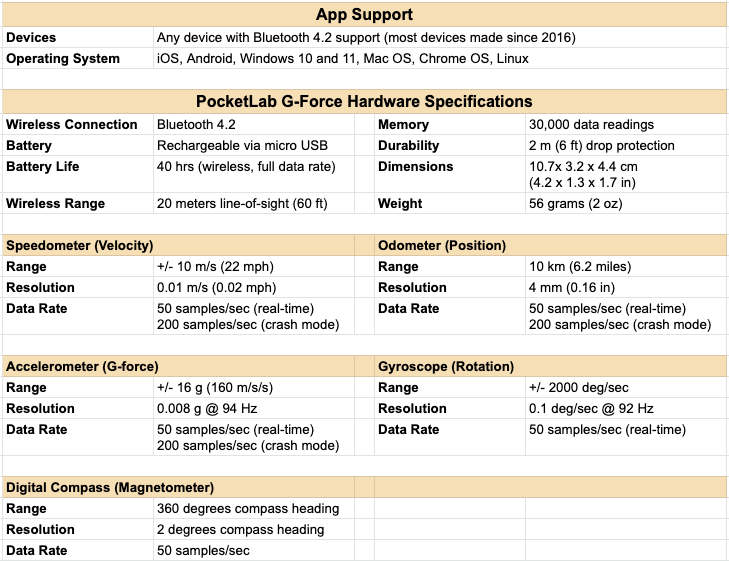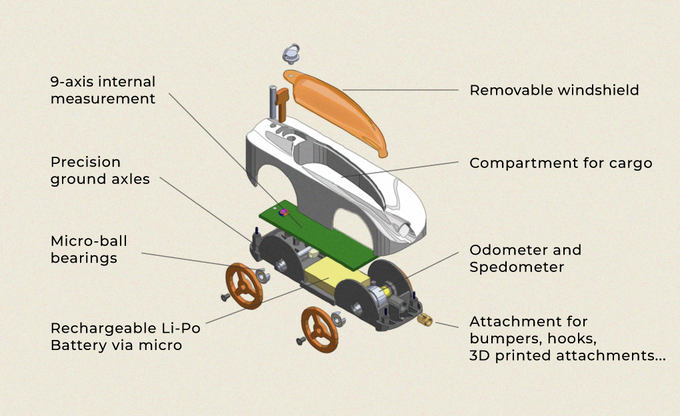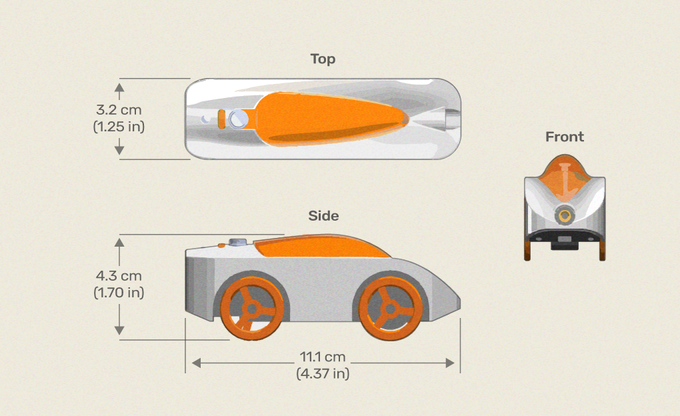 Why PocketLab G-Force?
PocketLab G-Force is everything you need to bring physics concepts to life in a car small enough to fit on a Hot Wheels™ track. Measure velocity, position, g-force, rotation and direction using one device and instantly track, measure and analyze the data of any motion experiment you can imagine. Use the G-force accessories to create crash simulations or see the effects of added weight or wind in real-time. It's serious science with the fun built in.
Speed Racer: How fast are you going? PocketLab G-Force is equipped with advanced sensor technology that allows it to measure the speed and distance traveled just like a real car. The speedometer data transmits wirelessly to a phone, tablet, or computer in real-time.

Plays Well with Others: PocketLab G-Force can race through HotWheels™ and other tracks for loops, roller coasters, and high-banked curves.

High Tech: Crash cars together and measure the g-forces of a collision or a turn in the track. PocketLab G-Force has an onboard inertial measurement unit (IMU) for advanced measurements, the same kind of technology used for autonomous driving.

Smooth Ride: G-Force is equipped with micro-ball-bearings, precision machined stainless steel axles, and fine-tuned mechanics.

Get Creative: You can attach bumpers, parachutes, and sails or fill the internal storage compartment with varying weights to the G-Force car to be creative with how you explore science.

Level Up: PocketLab G-Force is sophisticated enough to investigate college-level science concepts and simple enough to teach physics in elementary school. You can experiment with simple harmonic motion or three-dimensional kinematics with something that looks like a toy car.

Love Learning: Science + Play = Life-long Learning
ALIGNMENT TO NGSS, PHYSICS STANDARDS
G-force includes everything you need to teach seven NGSS Middle School Physical Science performance expectations, in addition to numerous high school physics activities, while integrating all four Engineering Design standards.
Some of the physics concepts covered by PocketLab G-Force:
Position, velocity, and acceleration

Energy and momentum

Elastic and inelastic collisions

Forces acting at a distance

Energy transfer

Newton's Laws of Motion

Harmonic motion
PocketLab is a science learning system.


Sensors + Notebook (Pro) + Lesson Library + ScIC Community
PocketLab sensors do not stand alone. Every sensor is part of the PocketLab learning system, which brings together our sensors, software, lesson library, and ScIC conference. Plus, the whole system scales to fit any class load. Anyone using PocketLab is part of a massive science learning community that is growing every day.
All PocketLab sensors are designed to seamlessly pair with our free Notebook or Notebook Pro software for real-time data visualizations, analysis, and lab reports. Create live, vivid data visualizations. Record and analyze data in real time. Create and share lab reports.
Choose from our teacher-made lesson library full of no-prep labs and projects designed specifically for our sensors and built directly into Notebook and Notebook Pro. The possibilities are endless, and it's all part of the PocketLab learning system.
Have drawers full of sensors from different companies? No problem. Both Notebook and Notebook Pro can visualize data from practically any sensor. Just export and upload a CSV file of your data and Notebook will automatically create interactive graphs of your measurements.
Lesson Library In PocketLab Notebook
Notebook is a full-featured, all-in-one digital lab book. The Lesson Library in PocketLab Notebook offers pre-built lessons for popular labs that every science room uses.
Check out these lessons you can use with G-Force.