Pre-order and Save
Pre-order today to lock-in special pricing. Expected to begin shipping in May 2022.
MEET G-FORCE, THE STEM KIT ON WHEELS
It's like a Hot Wheels™ car with a speedometer.
Why PocketLab G-Force?
PocketLab G-Force is for every kid that grew up reading about science and wished more people would love the thrill of it. It's for those collectors of endlessly cool tech gadgets. And it's for those technophiles and inventors out there who know that supporting projects like these is to be part of something bigger. It's science with the fun built in.
Speed Racer: How fast are you going? PocketLab G-Force has a miniaturized odometer and speedometer that works just like a real car. The speedometer data transmits wirelessly to your phone, tablet, or computer in real-time.

Plays Well with Others: PocketLab G-Force can race through many types of HotWheels™ and other toy tracks for loops, roller coasters, and high-banked curves.

Cool Data: Crash cars together and measure the g-forces of a collision. PocketLab G-Force has an onboard inertial measurement unit (IMU) for advanced measurements, the same kind of technology used for autonomous driving.


Sparks Creativity: You can attach bumpers, parachutes, and pirate sails to the G-Force car to be creative with how you explore science.

Smooth Ride: Equipped with micro-ball-bearings, precision machined stainless steel axles, and fine-tuned mechanics- this is a lot more than a diecast toy car.

Love Learning: Science + Play = Life-long Learning

Get Nerdy: PocketLab G-Force is capable enough to investigate college-level science concepts in approachable ways. Who thought you could experiment with simple harmonic motion or three-dimensional kinematics with something that looks like a toy car?
Measures
Velocity (Speedometer)

POSITION (Odometer)

G-force (Accelerometer

Rotation (Gyroscope)

Direction (Magnetometer)
Features
Free Award-Winning PocketLab App

Compatible with iOS, Android, Chrome OS, Windows 10, and Mac OS

Bluetooth 4.2 wireless connection

Record up to 30,000 measurements to the onboard memory

Rechargeable lithium polymer battery

Stream data in real-time then analyze the recorded data in PocketLab Notebook
Included
PocketLab G-Force

Protective Carrying Case

Interchangeable bumbers

Charging cable

Getting Started Activity Cards

100+ Lessons and Activities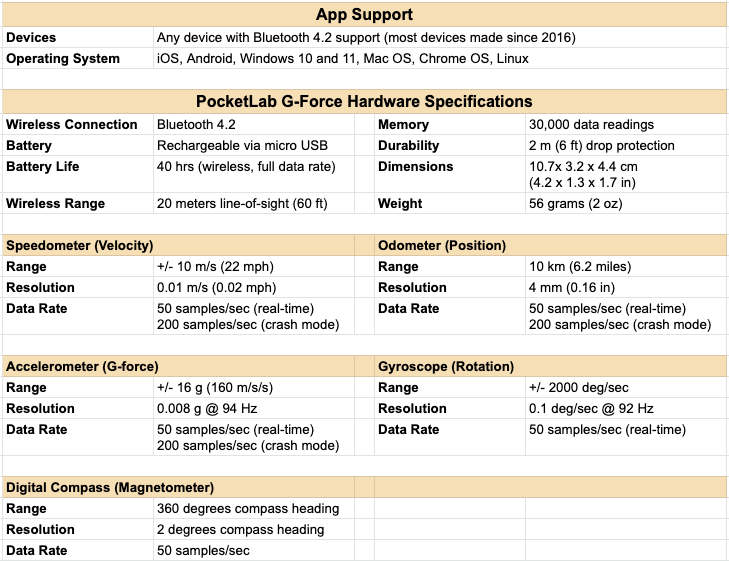 PocketLab is a science learning system.


Sensors + Notebook (Pro) + Lesson Library + ScIC Community
PocketLab sensors do not stand alone. Every sensor is part of the PocketLab learning system, which brings together our sensors, software, lesson library, and ScIC conference. Plus, the whole system scales to fit any class load. Anyone using PocketLab is part of a massive science learning community that is growing every day.
All PocketLab sensors are designed to seamlessly pair with our free Notebook or Notebook Pro software for real-time data visualizations, analysis, and lab reports. Create live, vivid data visualizations. Record and analyze data in real time. Create and share lab reports.
Choose from our teacher-made lesson library full of no-prep labs and projects designed specifically for our sensors and built directly into Notebook and Notebook Pro. The possibilities are endless, and it's all part of the PocketLab learning system.
Have drawers full of sensors from different companies? No problem. Both Notebook and Notebook Pro can visualize data from practically any sensor. Just export and upload a CSV file of your data and Notebook will automatically create interactive graphs of your measurements.