PocketLab Notebook Pro

BUILT FOR TEACHERS, BY TEACHERS
We created science lab software that we'd like to see in the classroom. Here are a few features that make a Notebook Pro subscription a great choice for teachers.
Teacher Dashboard
Create up to 200 PocketLab Notebook Student accounts to use in your classes

Administrative controls

Student progress monitoring

Large Lesson Library, use as-is or customize

Third-party software integration

Comments and student feedback tools
Student Lab Notebook
Lab Notebook to guide and document hands-on activities

Data Analysis Tools to analyze, graph, and interpret student-collected experimental data

Collaboration Tools to share group lab work.
Interactive, Hands-On Science Lessons In Minutes

Your prep time is valuable.
With PocketLab Notebook you can create digital science lessons called lab reports and assign them to students in minutes. Start with a template or build your own from scratch, import existing lesson plans or other documents, pull in videos and images, add PocketLab data, questions and instructions for students, PhET simulations, data tables, and more.
Take a Quick Tour of Notebook Pro
Collect Data
Notebook automatically collects and catalogs a vast range of data. No more rummaging through stacks of paper. The data is right there on the screen, right away.
Visualize in Real Time
Every sensor delivers data wirelessly to Notebook as the experiment happens. Students can literally watch the data move as they wave the sensor around. It's the kind of robust yet done-for-you balance you need for integrated science learning.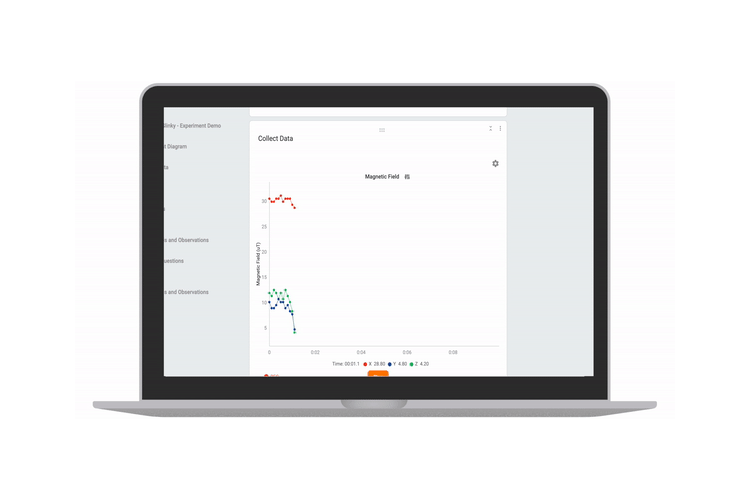 Build Your Own Science Lessons
With Notebook you can build your own science lessons or select from hundreds in our Lesson Library. Add interactive questions, videos, PocketLab data, PhET simulations, charts, and more to build out science labs and assign them to your students in your class.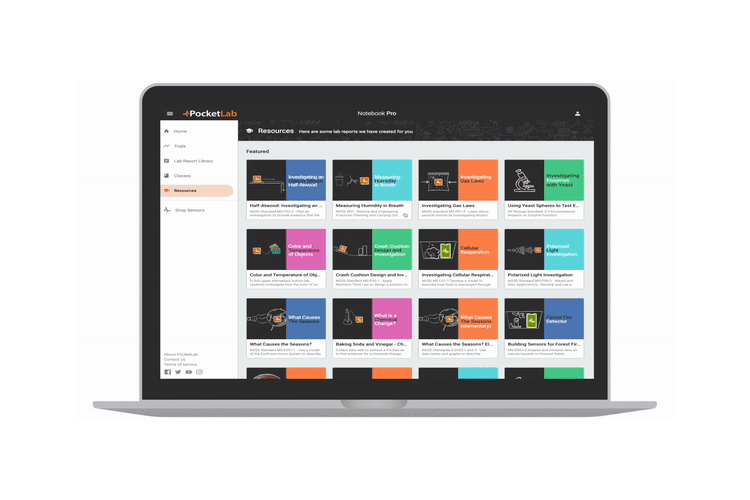 Backed by in-depth research
The PocketLab Notebook was developed through grants with the National Science Foundation and the Institute of Education Sciences at the Department of Education and in partnership with WestEd Research.
The Notebook beta version was piloted with hundreds of middle school students to increase their engagement in the NGSS science and engineering practices. In preliminary feedback, 71% of the 350 student participants responded that they actually enjoyed the lab report process while using PocketLab Notebook!
Imagine if your students actually enjoyed documenting their labs!? The hands-on experiments are the fun part, but lots of the learning comes in the rigorous process of scientific reporting.
PocketLab is a science learning system.


Sensors + Notebook (Pro) + Lesson Library + ScIC Community
PocketLab sensors do not stand alone. Every sensor is part of the PocketLab learning system, which brings together our sensors, software, lesson library, and ScIC conference. Plus, the whole system scales to fit any class load. Anyone using PocketLab is part of a massive science learning community that is growing every day.
All PocketLab sensors are designed to seamlessly pair with our free Notebook or Notebook Pro software for real-time data visualizations, analysis, and lab reports. Create live, vivid data visualizations. Record and analyze data in real time. Create and share lab reports.
Choose from our teacher-made lesson library full of no-prep labs and projects designed specifically for our sensors and built directly into Notebook and Notebook Pro. The possibilities are endless, and it's all part of the PocketLab learning system.
Have drawers full of sensors from different companies? No problem. Both Notebook and Notebook Pro can visualize data from practically any sensor. Just export and upload a CSV file of your data and Notebook will automatically create interactive graphs of your measurements.