DESIGNED FOR OPENSCIED CLASSROOMS
PocketLab OpenSciEd Bundles
No more hunting for all the various measuring devices required by OpenSciEd's middle school curriculum. PocketLab OpenSciEd Bundles bring together everything you need to manage data collection-based OpenSciEd labs and lessons. Select a bundle based on your classroom needs.
Everything is connected.
And now you are too.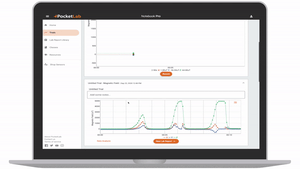 INTERACTIVE DIGITAL SCIENCE PLATFORM
All bundles include an annual PocketLab Notebook Pro subscription. Notebook is an interactive, full-featured digital science platform where students collect, visualize, and analyze live data. Students respond to questions and add data to fully-customizable cloud-based lessons where teachers can monitor progress and provide real-time feedback.

NGSS-ALIGNED LAB AND LESSON Library
PocketLab Notebook also includes access to hundreds of lessons developed by our in-house team of educators, celebrity contributors and industry experts. Supplement and customize your OpenSciEd experience with the built-in lessons or create your own using our drag-and-drop lesson builder with modules like discussion questions, videos, data tables, and PhET simulations.
Multi-functional,
hand-held SENSORS
Supply your classroom with enough easy-to-use, multi-functional measurement devices and accessories to support multiple lab groups. Connect wirelessly to any device via Bluetooth and instantly collect and store data. Students are able to easily manipulate experiment variables and connect science concepts to real-world data.